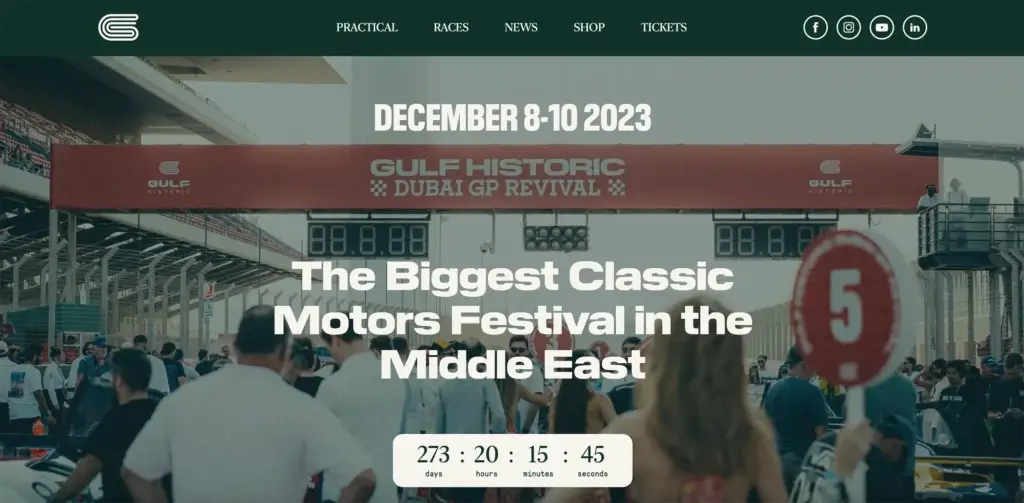 We are delighted to unveil our all-new Gulf Historic Dubai GP Revival website – your one-stop-shop for this year's event.

Whether you plan to join us as a team entering a car, or as a spectating lover of motorsport and period style, our new website provides straightforward access for you to be a part of the 2023 Gulf Historic Dubai GP Revival.
With a far more accessible process for registering your car for the competition, and a more streamlined ticket purchasing function, it's never been easier to secure your place at the Gulf Historic Dubai GP Revival.
 
The new website will be your hub for everything you need ahead of this year's event, taking place between 8-10 December at the Dubai Autodrome.
 
With pages dedicated to the fascinating categories that will be on show at the event, as well as the full schedule and useful advice on your outfit for the show, everything you need to know will be in one place.
 
From a classic car show and music concerts to a festival-style paddock, our new website will give you a taste of what to expect from the third edition .
 
For all the latest updates on cars that will be competing and drivers who will do battle, make sure that you regularly check our news section of the website, while our archives will offer a look back at the excitement of our previous events.